Aroma Diffuser DQ-701(180ml)
Color

White,Black

Product size

17.1*7.5*10.1 cm

Capacity

180ml

Spray velocity

15-20ml/h

Packing list

Aroma diffuser*1 USB cable*1 Manual*1

Certification

ce,RoHS,FCC

OEM/ODM

Support

Function

Add essential oils for aromatherapy, Air humidification, Flame night light
Parameter
Color: White, Black
Size: 17.1*7.5*10.1cm
Capacity: 180ml
Spray volume: 15-20ml/h
Use time: 9-12 hours
Power supply: plug in the USB cable (please use 5V2A adapter for power supply)
Certificate: Ce, Rohs, Fcc
Support: Aromatherapy Essential Oils
Features
Creative Design for Unique Experience
Our aromatherapy diffuser has a creative design that creates a realistic flame effect with light and water mist.

The unique design adds a special feeling to any room and creates a fun and enjoyable experience.
Mute Work for Comfortable Environment
Our diffuser uses mute technology to provide soft and comfortable fog and pleasant fragrance, while ensuring a quiet environment.

It is perfect for use during sleep, reading, or work, ensuring a relaxing and peaceful atmosphere.
Ultrasonic Atomization Technology for Comfortable Fragrance
Our diffuser has built-in ultrasonic atomization technology that disperses water and essential oils into fine water mist, moisturizing the air and bringing a comfortable fragrance.

It is the perfect solution for creating a calming and relaxing environment in any room.
Soft Light for Romantic Atmosphere
Our diffuser has a unique soft light that can adjust the brightness of the flame, creating a romantic and pleasant atmosphere that promotes relaxation and sleep.

It is the perfect accessory for any room, adding a touch of ambiance and tranquility.
Intelligent Work for Safe Usage
Our diffuser has an intelligent power-off function that automatically shuts off when the water is insufficient, making it safer to use.

This feature ensures that the diffuser can be used without any safety concerns, providing peace of mind for you and your family.
Packing List
1-Flame aroma diffuser *1
1-User manual *1
1-Type-C cable *1
Tips for use
1.This is a diffuser, no need for any cotton swabs, then you can add non-corrosive essential oils to diffuse the aroma. please do not add alcohol, perfume, cologne and other liquids.
2.The flame diffuser is wired. Please make sure to use a 5V2A adapter for power supply, otherwise the circuit may be damaged.
3.When using it, please be careful that the water level does not exceed the MAX line in the tank. Please be careful not to let the water enter the ventilation pipe. (We have added signs at the ventilation pipe)
4.Please avoid the contact of water and cable to cause short circuit damage to the product or harm to human body.
Real Pictures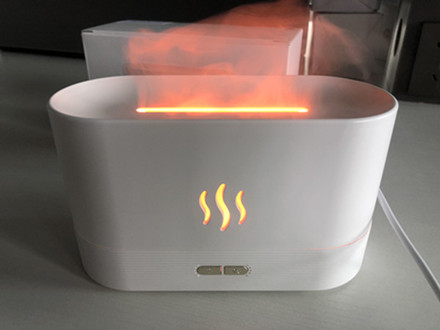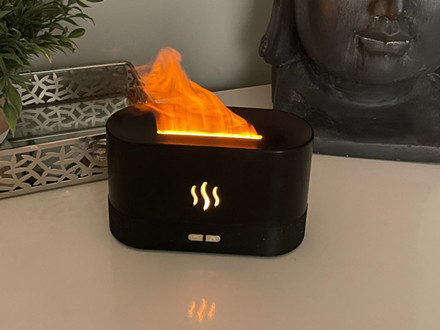 Feedback